shop window: post-War glass (page 1 of 2)

Click on any photo to see it full size, then click the 'back' arrow of your browser to return here
A Daum paperweight, in the form of a 1" thick rectangular slab, intaglio-moulded with the head of a horse, and engraved 'Daum, France' in one corner. The box (centre, above) is original, and we think the weight dates from about 1960. It is in generally good condition, with just one small scratch to the underside (arrowed in the detail at right, above), which would be easy to polish out if required
Our reference:
8909
Date:
c 1960
Manufacturer:
Daum
Origin:
France
Dimensions:
dimensions: 12.5 x 9.5 x 2.5 cm,
weight 830 gm
Condition:
see description

Click on any photo to see it full size, then click the 'back' arrow of your browser to return here
A Sèvres white opaline vase, acid-etched 'Sèvres, FRANCE' (second from right), with original foil label 'CRISTALLERIE DE SÈVRES, FRANCE' (far right)
Our reference:
8927
Date:
c 1950s
Manufacturer:
Sèvres
Origin:
France
Dimensions:
height 25.5 cm, weight 380 gm
Condition:
very good

Click on any photo to see it full size, then click the 'back' arrow of your browser to return here
This is a truly amazing pot! When the lid is on, you can't tell it's made of glass, as it is entirely covered in gilt. Acid cut-back on both the body and the lid is a repeated design, which we have established is a 'tugra' or 'tughra', an artisitic calligraphic representation of an Arabic name. This 'tugra' is that of a Sultan of the Ottoman empire, Süleyman II (1642-1691). Below is a portrait of him, together with a more detailed version of his 'tugra':
Clearly, this pot is not that old (we are fairly sure it is post-War), and apparently 'tugras' are sometimes used entirely for decorative purposes, so it may not have been made to commemorate his reign in any way. We have now been advised (thanks, Linda!) that it was probably made by the Pasabahçe Glassworks in Turkey
Our reference:
8924
Date:
post-War
Manufacturer:
probably
Pasabahçe
Origin:
Turkey
Dimensions:
diameter 16 cm, weight 950 gm
Condition:
very good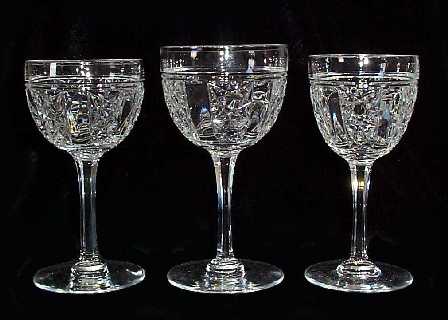 Click on any photo to see it full size, then click the 'back' arrow of your browser to return here
We have been lucky enough to get hold of a part-suite of twenty-two exquisitely-cut glasses by Thomas Webb & Sons. There are three types of glass (shown in the photo above): port glasses (left, about 12 cm tall), wine glasses (centre, about 13 cm tall), and sherry glasses (right, the same height as the port glass, but with a slightly narrower bowl).
The bowl of each glass has been cut with a band of six pillars (or reeds), alternating with six double 'Russian stars', contained within a pair of horizontal double-V cuts above and below.The stems are hexagonally-cut, and the feet are all marked with the acid-etched trademark used from c 1950 onward (illustrated below).

N.B. There are now only ten glasses left, which are described below:

Click on any photo to see it full size, then click the 'back' arrow of your browser to return here
A set of 4 port glasses (one example shown, from various angles)
Our reference:
8678
Date:
c 1950s
Manufacturer:
Webb
Origin:
England
Dimensions:
height 12 cm, weight 480 gm (the 4)
Condition:
very good

Click on any photo to see it full size, then click the 'back' arrow of your browser to return here
A set of 6 sherry glasses (one example shown, much smaller than life-sized, from various angles)
Our reference:
8679
Date:
c 1950s
Manufacturer:
Webb
Origin:
England
Dimensions:
height 12 cm, weight 670 gm (the 6)
Condition:
very good

..... carry on to page 2 of post-War glass